Expat Property has managed numerous projects renovating homes in Amsterdam. Below are her five tips for a successful home renovation project.
1.  Prepare and Plan properly
Even if you only plan small adjustments to your property, always check the state of the building and the property before planning any work. If you are going to do it, do it all and do it right. Thinking long term will definitely save on unnecessary expenditure at a later date. If there are problems with the foundations, you run the risk that walls or tiles will crack as a result.
It's critical to check the maintenance dates of electricity and plumbing. If you invest in beautiful new tiles for your bathroom without replacing old pipes, this could lead to leakages and the need to redo the entire tiling job again at a later date.
Many properties built or renovated in Amsterdam before 1993 contain asbestos materials.  A recent change to property regulations in the Netherlands is that by By 2024 the roofs of properties can no longer contain asbestos.
Measurements from archives or floor plans are often not accurate. For that reason, it's important to re-measure before making any plans and placing orders! Contractors often joke that they're unable to use spirit levels in properties in Amsterdam due to the floors being uneven.

Bouwvakantie (Builders vacation)
In the Netherlands, there are three weeks known as the "bouw vakantie" when construction companies and suppliers take a collective vacation. For Amsterdam in 2018, the dates are 6.8.2018- 24.8. 2018. Be aware that the dates of the bouw vakantie change every year.  It's important to take it into account for your planning.
Good planning is the key to a successful renovation project
To execute your renovation project on time and within budget do the following:
Never improvise mid-way through a project
Invest plenty of time into the planning stage of your project
Add 25% extra to your project timelines as unforeseen delays are inevitable
Allow a minimum of eight weeks for a response from the Gemeente for planning permits
2. Permits and Rules
Prior to carrying out any renovation work on your property, it's essential to carry out due-diligence checks to see which rules or permits might be required. There are numerous building and planning regulations, which are updated on a regular basis. Therefore,  I strongly recommend asking a professional to help you navigate through this stage as not following the law that covers building regulations can lead to fines of up to sixty thousand euros.
All building permits are listed publicly, thus enabling anyone to check online any work being carried out on your property.
Always check whether you need a permit from the municipality and from your VVE and which rules apply in your case. To check which permits you need, discuss with your subcontractor and use the official website www.omgevingsloket.nl (in Dutch). All general rules and standards for building and reconstruction are described in "Bouwbesluit 2012".  Be aware that the property owner is legally responsible for acquiring the correct permits, so again it's essential to have a third party that fully understands Dutch building rules and regulations advising you.
VVE Consultation when renovating homes in Amsterdam
Unless you own a detached or freestanding house, your property will be a member of a VVE. Prior to signing any contracts with suppliers for renovation work, it's important to notify and gain permission from the VVE. The rules relating to this should be described in the "splitsingakte" or in the minutes of past meetings.
It's important to be transparent and consult with your fellow VVE members about your plans. Going ahead with a renovation project without agreement from the VVE can lead to having to undo all work carried out at the owner's expense.
There are over 8500 registered monuments in Amsterdam. If your house is one of them, you have to discuss renovation plans with monument advisors (Mo-Fri, 9-10 am 020-251 4900).
Amsterdam city council invests a lot of resources in protecting its monuments. This means it might take extra time and effort to arrange all permits.
3. Choose your subcontractors wisely
Having successfully completed your planning, it's essential to have the right subcontractor carry out your property renovation. Here are some tips:
Always ask for references and view their portfolio of completed projects
Check the kind of insurance that the contractor has, and consider taking out a Construction All Risk (CAR) insurance for the project
Set clear expectations and agree in advance what is included in the project quote
Work with contractors that have experience of carrying out projects in Amsterdam
Get a minimum of three quotes from different suppliers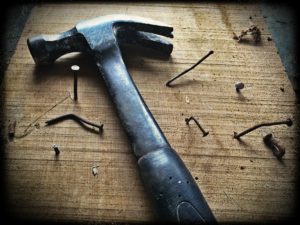 4. Budget and financing
Renovation projects always produce unexpected additional costs.
Your budget should always also include unexpected costs. This should be at least 15%.
The amount you have to pay for a permit can vary from €130 for parking on a pavement to several hundred euros for changes to a monument building
In some situations, by law, you are required to have insurance for home renovation.
If you plan a large renovation, have a structural survey "vooropname" of the properties of any neighbour's houses that might be affected during the renovation. This could cost an additional €500- €1000. It will prevent discussions with your neighbours and insurance claims against you in the event of being accused of causing structural damage to surrounding properties.
Make use of all financing and discounts possible!
If you're the owner of an Amsterdam-listed monument property, you can make use of "Amsterdam restauratie fonds"
Some monument renovation costs are tax deductible
Green does not always mean expensive, there are numerous subsidies for making your property more sustainable.
For houses older than two years, there is a VAT discount for certain labor costs. For example isolation, plastering, painting and cleaning services. In this case, a VAT rate of 6% is applicable
Discuss with your VVE which costs can be repaid from the joint account.
There are loans available specifically for home reconstruction
5. A recap of the keys to renovating homes in Amsterdam successfully
So I hope that you've found this article informative and useful. To recap, one of the keys to a successful home renovation project is good planning. It's really worth your while to invest a lot of time in this phase. Think through very carefully about your requirements and objectives. Be generous (and realistic) with your budget. Avoid cutting corners, or trying to save costs on what seem like trivial activities. It's critical to make sure that you have a clear and coherent plan.
Discuss your plans with people who have experience of renovating homes in Amsterdam. Engage early with your VVE. Hire an expert that fully understands building regulations and permit processes in Amsterdam. Not doing so could significantly increase the cost of your project or delay it completely.
Be aware that there are numerous subsidies available for renovation projects in Amsterdam, so take the time to investigate these to see if they're applicable to your project.
Choose your suppliers carefully. Prefer suppliers that have experience of building projects and common issues found in properties in Amsterdam. If you have any questions about anything covered in this article, please do not hesitate to contact us at info@expatproperty.amsterdam.