The five-step purchase process for buying a home in Amsterdam
Have you thought about buying a home in Amsterdam, but you don't know exactly where to start? This five-step guide explains the process of purchasing a home in Amsterdam. Whether you decide to work with a real estate agent or are buying independently, following these steps will support you in your goal of buying a home in Amsterdam.
1. Setting your criteria for buying a home in Amsterdam
In the currently overheated Amsterdam property market, for success when competing with others for buying a home, you have to be decisive and respond quickly. The first thing you should do is to contact a mortgage advisor in order to define the budget you have available for buying a property. Before you start searching and viewing properties, make sure you have a clear idea of the following aspects:
What is your ideal home: square meters, layout, number of bedrooms, would you like a garden, balcony or a rooftop terrace?
What is your budget? Do you need a mortgage?
Do you have or want pets? How far is the nearest park where you can walk a dog?
How many cars do you have or plan to own?
Neighborhood: do you prefer a lively street or a quiet residential area? Get to know the neighbourhoods in Amsterdam and what they have to offer.
Schools: International schools often have long waiting lists, and the Dutch school system gives preference to residents living in the neighbourhood.
How far are you willing to commute?
Would you like a newly built property or an older apartment with a character?
Are you willing to renovate? If so, what is your budget for renovation?
Do you have any special needs?
When do you need to move? How much time do you have to find a property?
What do you want to do with the property in future? Would you like to rent it out? Do think you might resell it within a few years?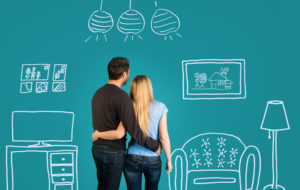 2. Searching and viewing properties
Searching, viewing and investigating properties is quite time-consuming. Funda is by far the most popular house-hunting platform in the Netherlands. There are also other property search websites that you can use when looking to buy a home in Amsterdam such as Jaap.nl, and amsterdamwoont.nl. You can also follow the new listings of housing corporations such as Ymere, De Alliantie, De key and Eigen haard. Not all of their properties that are for sale are listed on Funda.
When you find a property, check if it fits the most important criteria on your list before you schedule a viewing. It will save you disappointment and time. It might be difficult to secure a mortgage on specific properties so consult your agent. If possible, schedule a viewing at the earliest possible opportunity, since some properties are sold even before the agent finishes all viewings.
3. Investigate the property
As a buyer, you are obligated to investigate the property. You often have very little time for this step so if you are not sure if you are not missing anything significant, work with an agent who will help you with this stage so you can make an informed decision.
Besides a structural survey of the property, there are other important points you should investigate such as:
Is the property built on leased ground? If so, is it paid off or do you have to pay an annual canon?
Are there any particular clauses applicable?
Is the seller legally allowed to sell the property?
Is there asbestos in the property?
Is the property in its original state? If not, were the changes made with a permit from the Amsterdam municipality?
Are you buying a monument?
Is there an active association of owners? What is the monthly contribution payment? Is the association "healthy"?
Is there any planned maintenance scheduled?
Are there any large-scale projects planned in the neighbourhood?
What is the structure of the population in the area?
Are there any underground tanks? Is the ground polluted?
Other relevant aspects specific to your criteria or to property itself
What you investigate can be directly related to your search criteria. For example; would you like to rent out your home in future? Check if there are any rules in the association of owners preventing you from doing so.
4. Bid and negotiate
There is no general rule on how much you should bid on a property. In most cases, the asking price at which a property is listed says more about the selling strategy of the agent than the amount for which the property will be sold. Your agent will advise you on the value of the property and the bidding strategy, but you are the one making the final decision. Know how much you can bid. If you outbid the property market value, you might not be able to secure a mortgage for 100% of your proposed purchase price. Don't forget to mention all conditions for your bid.
Negotiating a purchase price might be a challenge due to high property demand in Amsterdam. However, you can negotiate other aspects such as the date of legal transfer, conditions under which you can break the purchase agreement, or what should be included in the price.
After your bid is accepted and you have reached an agreement with the selling party, a civil notary will draw up a purchase agreement. If you need a mortgage, you should contact your mortgage advisor at this point and forward the purchase agreement with all relevant documents and deadlines. After you sign the deal, you still have a cooling-off period during which you can cancel your purchase without stating any reason.
5. Legal transfer
Keep in mind following essential deadlines for a smooth transaction:
The end of the cooling-off period
Deadline for the 10% guarantee
Deadline for conditions under which you can break the contract
Deadline for payment
Deadline for the legal transfer
Just before the legal transfer, a final inspection will take place where you check if the property is in the agreed state. You will also take note of the status of electricity, gas and water meters.
Choose a notary who frequently works with internationals. They will be able to explain the deed in English and will undoubtedly have a network of interpreters who will have to be present if you do not speak Dutch. After both parties sign the deed, you become the owner of the property. Congratulations!
Do you have any questions or comments about this article? Are you looking for a real estate agent to guide you successfully through the purchase process in English? Contact us at info@expatproperty.amsterdam